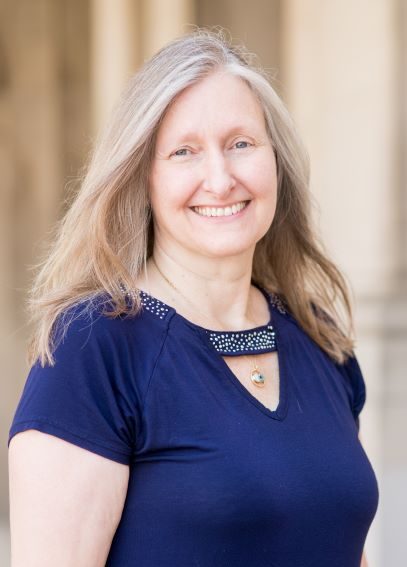 Dr. Theresa Benson
Dr. Theresa Benson, Licensed Clinical Psychologist
Ph.D. University of Akron, Counseling Psychology
M.A. JFK  University, Holistic Health Education
Clinical Approach: I believe that a trusting, supportive relationship provides the necessary framework for healing to take place. I seek to understand each person's lived experience and help them connect to strengths within that will foster growth and well-being. I take a person-centered approach incorporating Acceptance Commitment Therapy (ACT) and mindfulness-based interventions, shame-resilience, expressive arts interventions, and Internal Family Systems (IFS).
Professional Interests: I practice as a generalist with experience working with emerging adults, trauma survivors, individuals struggling with eating concerns, members of the LGBTQ+ community, and individuals seeking treatment informed by their faith tradition. I joined Graceway after 14 years of experience working in college counseling centers.  Prior to my work in college counseling centers, I gained experience in community mental health settings and a rape crisis center.  My clinical interests include integrative health and wellness, spirituality/religion, trauma related to interpersonal violence and sexual assault, post-traumatic growth, and social justice. I am an IFS therapist working toward certification and a Registered Expressive Arts Therapist (REAT) who is an active member of the International Expressive Arts Therapy Association.
About me: In my free time, I like designing spaces on Animal Crossing New Horizons and talking to my villagers, especially Marty. I also enjoy reading books focused on cultures and people from different backgrounds than my own to gain insight into other ways of living and being in the world.  When I am not reading or playing Animal Crossing, I like to travel by train, plane, or automobile to domestic and International destinations to gain new experiences and insights into how others live.
Dr. Theresa Benson can provide some telehealth services in states with enacted PSYPACT legislation. To view the most updated information on PSYPACT, visit:
https://psypact.org/page/psypactmap
Dr. Theresa Benson currently has NO OPENINGS.